14.11.2019
Green Friday 2019
Mapping a sustainable future
Staff at Harvey Maps have decided to encourage a positive approach to the sustainability of our environment. It's important to us as a business and as individuals.
Green Friday offers the opportunity to reflect on our place in the great outdoors and the impact our actions are having upon it. Our hills, mountains and green spaces, and our appreciation of them, are vitally important.
This year our Green Friday will run from Thursday 28th November to Monday 2nd December inclusive. Look out for our special HARVEY Earth logo which will be visible on our website for the duration of the GREEN Friday weekend.
For every product* you buy from our webshop we will donate £1 to the Mend our Mountains campaign. For further information on this project click here.
So, we hope you will buy a map and head to the hills, knowing that your purchase is contributing to the maintenance and enhancement of your outdoor experience for future generations to come. Let's make a difference.
27.11.2017
HARVEY Maps plots route to success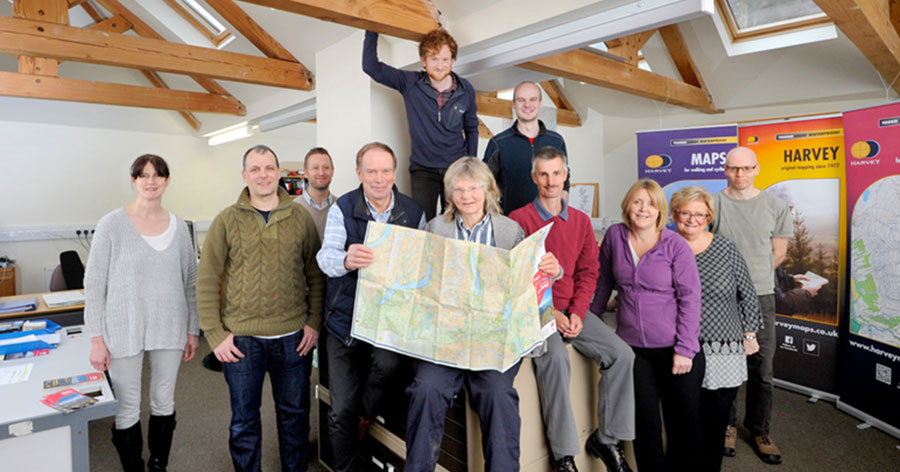 Map Publisher Plots Transition to Employee Ownership
Leading map publisher Harvey Map Services Limited has announced it is the latest business in Scotland to adopt an employee ownership model, with ten staff given the opportunity to become owners.
Harvey Maps was founded 40 years ago by Robin Harvey MBE and Susan Harvey MBE to provide a professional mapmaking service for the sport of orienteering. Based in a historical building in Doune, Perthshire, it is one of a very small number of companies in the UK to generate its own map data. It has become a market leader in maps for outdoor pursuits such as hill walking and mountain marathons.
Commenting on the decision to become employee-owned, co-founder Susan Harvey said: "In due course we will want to retire. However, having formed and developed the business into a market leading company over the past 40 years, we didn't want to sell to a competitor and see our life's work absorbed into another company. It was also important to us to retain the jobs in Doune.
"We wanted a succession solution which gave the company, the jobs and the brand a good chance of continued independent existence following our retirement; employee ownership ticked all of our boxes."