June 2021 - Adventure Patch Company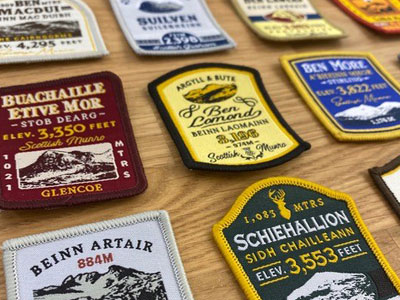 In 2019, HARVEY teamed up with
The Adventure Patch Company
. Run by two brothers from the northwest of England, Chris and Dom create high quality woven and embroidered fabric hiking patches for the UK's National Parks, peaks and mountain challenges.
We catch up with them to discuss their
new Scottish Mountains range
and find out what their next adventure is.
What inspired you to create The Adventure Patch Company?
We've been keen hill walkers all our lives, having grown up hiking in places like Snowdonia, the Lake District and Peak District, but really we were inspired to set up The Adventure Patch Company after searching (in vain) for a patch to celebrate climbing our first Alpine 4000er, Gran Paradiso (Italy), in 2017. This was a big milestone for us and we wanted a patch to put on our packs to celebrate the achievement.
Chris has a bit of artistic flair, so he knocked up a nice design and it basically got us thinking maybe we should create some patches for other peaks we'd climbed, which might appeal to fellow hill walkers. The intention in the beginning was simply to create patches that we wanted ourselves, but thankfully they've proved popular and there's plenty of folks out there who enjoy the patches as much as we do!
If you had to pick one patch, what would it be?
Dom - for me, it would be our Snowdon patch. I've got some great memories of climbing Snowdon as a child and with it being the start of the Welsh 3000s challenge it's ingrained in my memory! This was also the first patch we ever sold on eBay, and features in our first Instagram post, so, while our Gran Paradiso patch inspired us to create the business, it was the Snowdon patch that officially launched it.
Chris - probably one of the new Scottish Mountain patches - maybe Ben Lawers, as it was the first Munro that Dom and I climbed, which kickstarted our love of the highlands and ambition to bag all 282 Munros!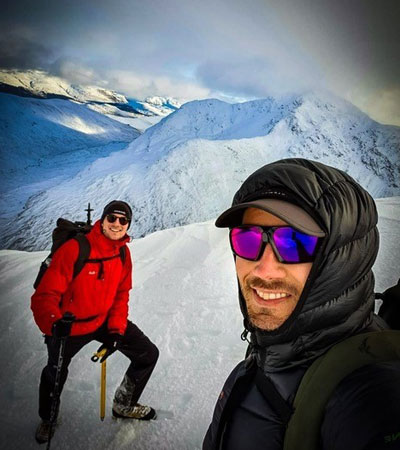 "Each patch tells a tale" - what is your most memorable adventure?
Tough one... the Alps trip that kicked this whole thing off was pretty epic, but it probably has to be our Cairngorms 4000s adventure in December 2018, just after Chris moved to Scotland. For anyone who hasn't done it, this is a big 40km route taking in six classic munros, including the UK's second highest mountain, Ben Macdui. It can be hiked in a day, but we did it over two days in winter, with an overnight stay in Corrour Bothy (our first bothy experience). The full-on winter conditions, which tested our navigation skills and endurance, combined with the craic we had in the bothy with the other hill walkers who were staying there - one of whom had brought a guitar with him - just made it a really memorable trip, for all the right reasons.
Tell us about your new Scottish Mountains range of patches?
We've had so many great hiking trips in Scotland over the years, bagging Munros in all conditions, that this was a special range for us - and definitely a labour of love for Chris, celebrating the mountains of Scotland that he moved from Ireland to be closer to.
There are currently 12 patches in the new range, covering some of the most iconic Munros, Corbetts and Grahams, including Ben Nevis, the Cobbler and Suilven, so hopefully they appeal to a broad group of hill walkers. Stylewise, this range has taken inspiration from vintage whisky labels, so there's a nice retro feel to them, which we like, and the patches also detail the elevation in metres in feet, as well as the Gaelic name of the mountain in question.
This range has been on the cards for a long time, but with full time day jobs and other commitments, life sometimes gets in the way so it felt particularly good to get these patches launched.
What's next for the Adventure Patch Company?
Good question! At the moment we are mainly focused on expanding our existing ranges of Lake District Fell and Scottish Mountain patches - as well releasing some new ranges, such as the Welsh Mountains. Our focus is still very much on the UK, as there are so many awesome peaks and landscapes to celebrate here! We'd love to do an Alps range at some point, so who knows what our product offering will look like in a few years time.
Return to the
News & Features Blog