August 2021 - Summer Walking Kit List
by Nigel Williams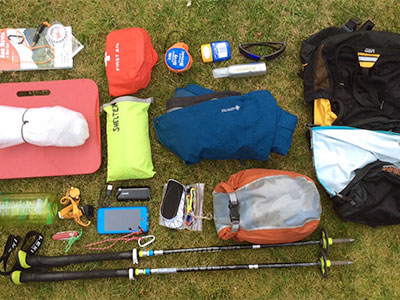 It is tricky to come up with a definitive kit list for a summer hill day. Weather, remoteness, time of year, how many and who is in the group, their experience and my responsibilities to them will dictate the kit worn and carried.
What often catches people out in the mountains (one can see it every day on Ben Nevis which is another 430m higher than Munro height), is the "lapse rate" - the decrease in temperature with altitude. Windspeed, combined with temperature, causes a "wind chill" effect. Wind chill and an increase in precipitation are influenced by altitude.
The lapse rate is a decrease in temperature of approximately 2ºC for every 300m climbed. So a temperature of say 6ºC in Glasgow or Edinburgh would indicate 0ºC or colder on Munro summits. Add the fact that the wind speed is two to three times greater on the summits compared to sea level, 0ºC in a 20mph wind will feel like minus 7ºC. Lastly, precipitation is also much greater in the hills. So a Munro day is likely to require packing those extra layers, gloves and woolly hat for comfort higher up, even when the weather at home seems quite benign.
For a summer Munro walk I start with:
1. 30 litre sac with a dry bag liner.
2. Map - in a waterproof case. I might carry a spare in a different scale, often though this is digital on the phone.
3. Compass attached on a cord (not a loop around my neck).
4. Mobile phone - on a short cord attached to me with a mini karabiner to try to prevent me from losing it or putting it in random pockets during the day. This also reduces the risk of it becoming next to my compass with the potential to change the needle polarity.
5. Small power pack to recharge phone.
6. Waterproof trousers and jacket - I have become a fan of Paramo waterproof outers as their jackets and trousers are comfortable even against the skin. With the ventilation systems they can be worn all day in all weather conditions so additional waterproof layers are not needed.
7. Windproof - a very thin light pertex jacket for optimal temperature control or sun protection. An optional item really.
8. Spare warm jacket of either wool, fleece or synthetic down in dry bag.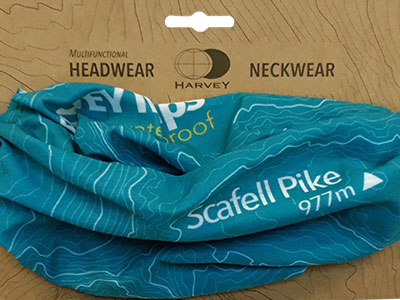 9. Gloves, hat, cap/sunhat/wool hat/
HARVEY XT Headwear
all in a dry bag.
10. Sit mat - down the back of the rucsac for sit down breaks. This gives comfort on a boulder and a little protection from ticks.
11. Mini gaiters - I don't like wearing full gaiters, but mini ones help keep water, heather and ticks out of the boots and help prevent laces coming undone. (They go comfortably under the trousers so water runs off over the top not down inside as happens when they are used outside of trousers).
12. Walking poles - I use two much of the time. They help up hills, down hills, hopping across bogs and puddles etc.
13. First aid items in a drybag. I keep a tick remover and tape for hot spots/developing blisters in the lid of my sac as they seem to get used most often. It saves diving to the bottom of the sac to find the first aid kit. For tape these days I use kinesiology tape with peel off paper backing cut to about 10cms lengths and the corners rounded. It stretches, and unlike Zinc Oxide tape, people don't seem to have mild allergies to it. Also pre-cut means I don't have to find scissors or a knife as well. Compeed is usually in my first aid kit. It should only be used when a blister has become raw or de-roofed as the gel in the Compeed plaster is designed to absorb the natural liquids that weep from the raw skin. It is all in the instructions!
14. Sun screen - factor 50
15. Midge/tick repellent - Smidge
16. Small bottle of Alcohol gel
17. Sun glasses and/or reading glasses
18. Head torch, generally for use in late August to end of April. A tiny emergency one maybe through the main summer period.
19. Small penknife
20. Small note book and pencil
21. A monocular or small binocular is sometimes a luxury item
22. A rubbish bag for everything to be carried away off the hill.
Food
- anything easy to eat. I tend to avoid chocolate as it always seems to melt, although a few minutes in a stream sorts that out.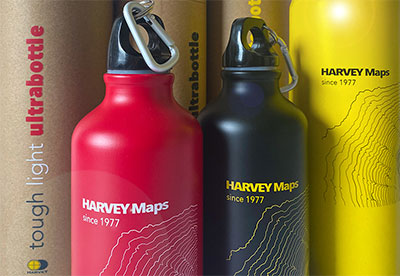 Water
- usually in a Nalgene 1 litre bottle. On camping trips I often take 2x 500ml Nalgene bottles as you can put boiling water in them and put damp socks or gloves over them or put them in your boots to help dry or warm things up. They are a good hot water bottle in the sleeping bag as well.
HARVEY Tough Light Waterbottles
are a great addition to your summer kit list.
Generally, in Munro territory I don't tend to use any water purification, however lower down and anywhere there are farm animals I would do so. I may take a thermos instead of a Nalgene bottle on a day walk if the weather is looking bad. Other days I often take a gas stove, lighter, pot, mug, tea bags and milk sachets. It is very satisfying making a brew.
Group kit
if I am responsible for others.
1. Group shelter. (A 4 person one will work for two but a two person will not work for 4.)
2. Emergency lightweight survival bag. The foil blankets are rather less effective at keeping the heat in than a bag, particularly if it is windy.
3. A 1.5m roll of bubble wrap for ground insulation, often lives at the bottom of the sac for emergencies. Insulating someone from the ground will make a significant difference in keeping a casualty warm. It doesn't weigh anything or matter if it gets dirty or cramponed etc. I still have a sit map for my comfort.
We all tend to add other things specific to our experiences, but all this seems to fit in a 30 litre rucsac without being uncomfortably heavy. Some days I carry more, some days less. Communal items can also be shared out.
I try to pack according to the external factors rather than against a specified list. I have to confess though to having a range of packing lists for different trips, and where I have a choice of items I have a list of their weights as well. Sad, I know.
Return to the
Navigation Blog