December 2021 - Be avalanche aware
by Nigel Williams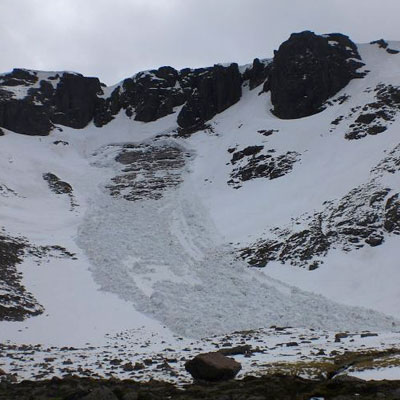 The Scottish avalanche forecast service has warned of early winter snowpack instabilities.
"A standby avalanche forecast service will be provided mostly for the Northern Cairngorms and Lochaber regions during the months of November and early December. When significant blanket snow cover is present in the mountains SAIS avalanche forecasters will carry out field observations and produce public avalanche hazard reports. Lochaber reports will be a good reference for the western highland ranges and Northern Cairngorms reports for the eastern highland ranges Daily Avalanche Information Reports for the 6 operational areas of Lochaber, Glencoe, Creag Meagaidh, Southern Cairngorms , Northern Cairngorms and Torridon regions will be issued from Friday 10th Dec 2021."
See
www.sais.gov.uk
for the latest information.
With the winter season ahead, take time to think abut the realities of travelling in the hills safely at this time of year. There is sometimes a view that it is climbers that get avalanched. Look more closely at the statistics and it becomes evident that "climbers" tend to get avalanched on the approach to their climbs or on their descent, often on ground around 30 - 45 degrees (the most common angle for avalanches to occur). Whilst those sorts of angles are steep for many walkers they often appear attractive with the ground being smooth and presenting the option of a shorter route in ascent or descent.
Avalanche education over the years has changed. In the 1970s and 1980s it was all about the (existing at that time) science of snow. In the 1990s and early 2000s this changed more to a testing of the snow pack approach. In the past 15 years it has moved to avoiding the avalanche terrain through proper planning and thought processes before and during our journey and an understanding of heuristic biases. It is amazing how many people who have survived an avalanche will say that they thought the slope might be suspect yet still carried on. So why do we do this? Heuristic bias; a short cut decision making process our brain makes which overrides our critical risk management thinking. For example, you see fresh footprints up a slope that in your planning you had identified as a potential avalanche risk. But now on the ground, knowing it would shorten your route, you decide it must be safe.
The problem we all face with the subject is that 99% of the time the feedback we receive is that we made the right judgement when we have fallen into these biases - unless we actually get avalanched! Heuristic biases are fascinating and there are at least half a dozen more identified in relation to avalanche incidents and even experts are prone to them. In reality today we employ a range of all of this knowledge and practical skills which complement each other.
Gone are the days of stopping at a phone box and trying to get a recorded weather forecast when you are already on your way to the hill. Planning has changed hugely in the last couple of decades with improved weather forecasting and the existence of the Scottish Avalanche Information Service (SAIS) which enable us to start the process several days ahead of our trip. It is worth remembering though that these are forecasts and on the rare occasions that the weather forecast is inaccurate then it is likely that the avalanche forecast reflect this. The Scottish Government, largely through sportscotland, is actually investing a lot of money into trying to keep us safe in the mountains in winter.
Check out the SAIS website
www.SAIS.gov.uk
and spend time learning about the subject. Planning and avoidance (which may mean higher than summer navigation skills) is the key. There is also a Be Avalanche Aware mobile app.
Return to the
Navigation Blog