January 2021 - Cycling Routes
Cycling is a low impact exercise that offers a wealth of benefits. It also varies in intensity, making it suitable for all levels. It can help shape a healthy lifestyle, both physically and mentally.

HARVEY Maps Production Manager, Chris, takes us through some of his memorable routes.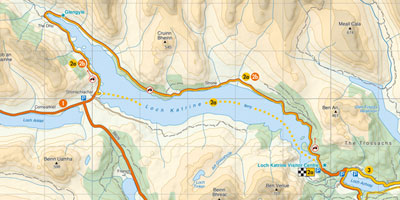 1. Loch Katrine: a classic ride on virtually traffic free road along the loch shore. Plus the opportunity to make the return leg on a steamship!
Map: Stirling, Forth Valley and the Trossachs cycle map
Difficulty: 2/5
Return to the
News & Features Blog