June 2021 - Surveying in Pitlochry
Here at HARVEY HQ, we are often asked what it is like to be a part of the team that carries out the survey work and field checking for our award winning maps. People enthuse that it must be fantastic to be paid to go hillwalking - and of course this is true, but it is only half the story!

The most recent survey trip was around Pitlochry in Perthshire, Scotland, to check the newly created mapping for an upcoming Superwalker XT25 map. The team talk about their highlights below.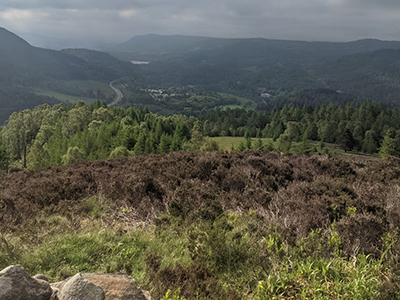 Lewis
What a difference 8 months makes. My last survey trip was to Galloway last October for a few days. Surveys in October are always wet and that trip was no exception. On this latest survey however, the weather was fantastic and made for a great couple of days walking around Pitlochry. 20 degrees and sunny. Perfect!
A survey highlight for me was climbing the small hill of Craig Fonvuick. At only 413 metres high, this is a really accessible hill that boasts amazing views over Pitlochry and Ben Vrackie. As part of the survey, the team walk the Core Paths in the area. Core Paths are a network of paths that give the public reasonable access through an area. Lots of these paths are hidden gems and provide quiet walks.
The area around Pitlochry is a perfect base to sample some of Scotland's best landscape. Lochs for swimming, forests for mountain biking and, of course, Munros for bagging. If you're new to Scotland, I'd recommend this area (and of course this map). There is something for all levels of experience.
Holly
When we head out on a survey trip we print paper copies of our new map, attach them to a board, and place a sheet of tracing paper over the top to record any changes or additions we find along the way. This may seem pretty low tech (it is), but it is still the best way of gathering the data we need.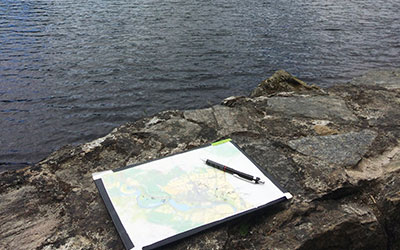 Take our survey of Peddars Way, for example. I decided to use this trip to test out a new digital mapping app I hadn't used before. Unfortunately, the trip was in November, and my phone has a nasty habit of turning itself off if it gets too cold, so a few hours into the survey, my phone was completely unusable.
More recently I headed up to Pitlochry with a GPS unit to record my route. Despite leaving the unit charging for all of the previous day, halfway through my walk I noticed the battery had died. Not to worry, I thought, I have a spare. I switched the batteries over and sure enough: that one died too. Don't get me wrong, there is some great tech out there for navigation, but nothing can beat a paper map.
Luke
All of a sudden, about 30 deer rose from the long grass and trotted up the hillside, forming a queue that was silhouetted perfectly along the skyline. I am no photographer, and after fumbling around in my rucksack for my mobile phone to take a photo I only managed a grainy image as a record of our encounter. This was a memorable moment from last week; my first survey trip with HARVEY Maps.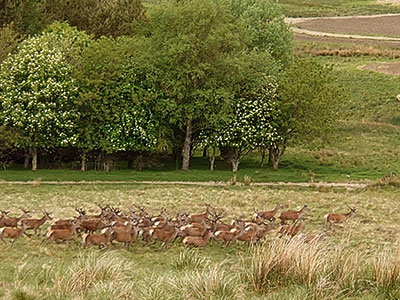 With an early start, we set off from our base in Doune and drove north. One hour and a handful of FOX's Glacier Mints later, we had arrived in Pitlochry. Ben Vrackie stood before us, pointing into the clear blue sky. A few other early birds had arrived just before us and were preparing for their own days adventure. We followed suit by lacing up our hiking boots; applying suncream liberally and getting our map boards ready for survey.
The map boards are there for us to annotate any important route or navigation information that we have been unable to capture at the photogrammetry stage of the map production. One of the tasks of the day was to test out the various routes to the summit of Ben Vrackie. As we made our way up to the summit we noted changes in the path structure and additional navigational features along the way. These were recorded on our map boards and have since been included on the map.
It was a long day, and even though the suncream may have been applied in vain, it was an enjoyable one. Not only did we collect information that is important for the map user, but a survey trip gives a tangible impression of the area itself. Seeing the topography, flora and fauna of the area enables us to better depict Pitlochry and its surroundings. That knowledge and information is then translated into a clear and accurate map.
Leeanne
My survey started on the Weem Forest Trail which is a well marked circular trail. Near the viewpoint you will find modern cup and ring marks cut into rocks, and at the viewpoint stunning views across to Aberfeldy. This ancient woodland is full of forest sculptures, and a short climb takes you up to St David's Well nestled in the crags. A highlight of this Trail is the walk along to Dull Wood Circular, west of Weem. The path and track are lined with cherry blossom that seem to go on for miles!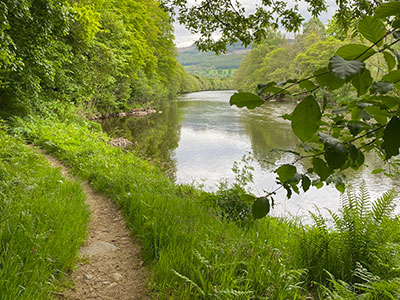 There are lots of popular walks in and around Aberfeldy and it was important to show these on our new map. New paths are created and older ones become overgrown.
One of the difficulties at photogrammetry stage is clear visibility of path networks in forested areas. Weem Forest Trail is a good example of the survey of well established paths. Also hidden in the trees along the River Tay is a riverside core path that is currently under review as a new linear long distance route, the 'River Tay Way', popular for fishing and walking.
Finishing up the day's survey at the Tay Bridge in Aberfeldy took me to a 300 year old William Adam designed bridge which allowed the movement of troops to the Highlands. The path continues along the riverside for those wanting to walk a bit further, but for me, after a 20km walk and lots of map updates it was time to call it a day!
Return to the
News & Features Blog