Lightweight Equipment
by Nigel Williams

Having the right clothing and equipment can make a huge impact on your journey. Is going lightweight on equipment worth it? Nigel Williams discusses going lightweight on equipment but not on cost.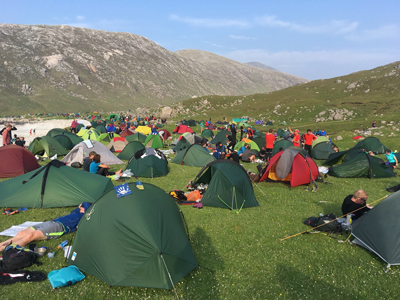 What is the difference between an outdoor enthusiast and a sheep? Answer: A sheep only has one fleece. I seem to have accumulated multiples of quite a few outdoor items, yet I always choose the one with the best weight to warmth ratio that packs down the smallest, or is the lightest and easiest to use for the expected conditions. That goes for everything from the cooker to the map. There is a certain satisfaction from getting your rucsac as light as possible, and equally important, looking like a day sac when you are going on a camping trip.
There tends to be an inverse relationship between the weight of our wallet and the weight of our outdoor equipment. Lightweight for the same quality costs more.
2 day mountain marathons like the OMM provide an interesting insight into minimalist light weight equipment. It is not just trimming tea bags or cutting half the toothbrush and spoon handles off, super light yet strong materials can be used in everything from cookers and tent pegs to sleeping bags and mats. (The ultimate sleeping mat is a "balloon bed", less than 100gms and goes down to the size of a handkerchief).
Packed size also influences cost. Sleeping bags are the classic example. Down in sleeping bags has the highest weight to warmth ratio and packs down around 50% smaller than artificial fillings. For the equivalent warmth, the top rated down bag can be 3 to 4 times more expensive than a manmade fibre bag.
Roughly speaking a £100, 2 person, 3 season tent would weigh around 3.5kg. A 2.5kg is likely to add around £100 - £150. The next kg. reduction adds £200 - £250 to the cost, and so it goes on exponentially up to a £1000 tent weighing under 1kg. This exponential increase in cost per gram is the general trend across most outdoor clothing and equipment.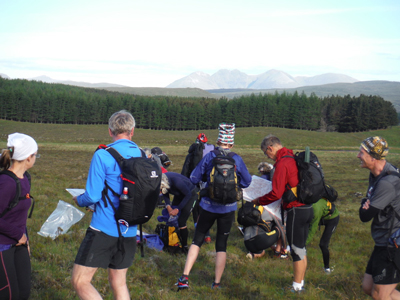 However, with a reduction in weight often comes a reduction in robustness and the life of the item. Some manufacturers like to claim the eco friendliness or sustainability of their manufacturing processes. However, when an item is not so robust it is likely to need replacing more often.
Most items of clothing and equipment in the outdoors need to work together and be appropriate for the intended use, so we should avoid looking at an item in isolation. Lightweight waterproof trousers often have short zips to save weight at the ankles, but if you have sturdy walking boots they may need to be removed to get the trousers on and off, the last thing you want to do if it is raining.
When I started to become independent in the outdoors, maps seemed to be an expensive but valued item. I didn't want to cut off the cardboard outer of an OS map even though there was a scissor symbol advising that, and I certainly was not prepared to cut off urban or rural areas that would be irrelevant to mountain adventures. After fighting with split plastic map cases and jacket pockets that always ended up under rucsac straps, or were not big enough, the card board got left at home. Winter adventures and Mountain Leadership led to carrying small areas of easily managed mapping to reduce weight and faffing. Clear sticky back plastic, "fablon", became a popular way of home waterproofing. Next came actual waterproof maps which were quite bulky and difficult to fold, and cutting them would allow water in at the edges. Finally Ortleib produced a dependable rubbery plastic map case in a range of convenient sizes that didn't crack when folded. All this time maps were generally only being printed on one side of the paper.
HARVEY Maps have always led the way in the UK with mapping production and materials focused on outdoor recreation. They have systematically worked through the traditional issues outlined above. The result today is a tough, light and waterproof material which is easily folded with no additional cardboard cover to be dealt with. The ease of folding is probably quite a science, but with a map printed on both sides, the overall size of the sheet is halved and it doesn't need to be folded in half before the traditional concertina folding. It is therefore lighter and easy to fold as a single sheet of paper, down to the size of a mobile phone that fits into almost any pocket.
The Ultramap XT40 map series offers the smallest and lightest maps available. They cover around 750sq kms in the superb 1:40,000 scale.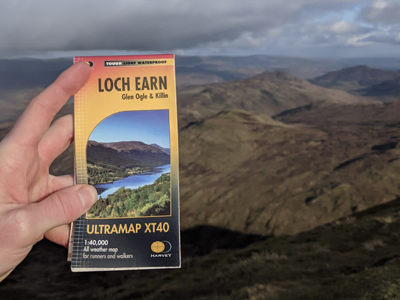 During the late 1990's - early 2000's technology added weight to be carried with a separate map, compass, phone and a gps (plus spare batteries) that could only give us a grid reference. Of course when we carry a mobile phone today it can combine all those navigational devices and an altimeter. An up to date weather and avalanche forecast are also at our fingertips.
However, there are risks to having all your eggs in one basket, but it is good to have the phone as a backup to a paper map and compass. A powerbank is really an essential extra bit of weight to go with the phone. If you have a rechargeable head torch you may save weight by not needing spare batteries for that as well.
Long term, reducing the weight we take on the hills helps to manage our joints into old age without the temptation to ditch the odd luxury item or a piece of valuable emergency kit.
HARVEY Ultramaps are small and light enough to carry in your hand, at 2/3rds the folded size of a conventional map, they are Ultra practical and Ultra compact.
Browse the Ultramap 1:40,000 map series here.
Return to the
Navigation Blog