May 2021 - Edale Mountain Rescue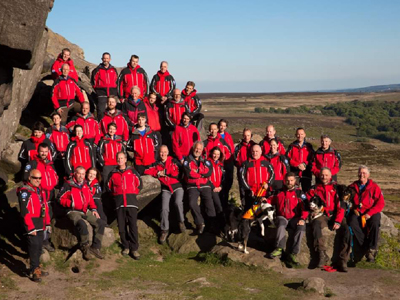 With over 156 incidents in 2020,
Edale Mountain Rescue Team
is one of the busiest teams in the country. Operating in the Peak District National Park in Derbyshire, they cover a vast area which includes parts of South Yorkshire. The team members are highly experienced volunteers, who are keen to share their experiences of the hill, many of whom have made the outdoor world their workplace.
We spoke to team member
Dave Torr
on what it's like working for Mountain Rescue and his advice for heading out on the hills.
With many more people predicted to be enjoying the outdoors this year, what advice would you give to the public wanting to head out into the hills?
I think that we need to keep things simple with any advice and one of the best bits of advice that I would like to get out to people new to the hills is be prepared for the worst case scenario that you could imagine. Are you prepared to have to sit on a cold and wet hillside and be able to protect all of your party from the elements, until help arrives? You can help yourselves by following some simple guidance:
1. Make sure that you know where you are going. If you do not, learn how to read a map and use a compass.
2. Do not rely on battery powered devices as they can break or fail.
3. Take a torch and spare batteries, or several depending on the size of your group.
4. Have spare clothing for cold and wet situations.
5. Take spare food and drinks, more than you think you may need.
6. Buy a group shelter, it is amazing how this alone can and has saved lives.
7. Always do any adventures to the limit of the weakest member of your party.
8. Try and let someone know where you intend to walk and what time you are expecting to return, and make sure that they know how to call out Mountain Rescue.
What's the biggest misconception people have about Mountain Rescue teams?
The biggest misconception is that people think that we are government funded and that we are paid.
Is it only mountain rescues that the team get involved in?
No, our work is actually very varied. Mountain Rescue teams get involved in inner-city situations looking for vulnerable and lost people. We get involved in major disasters like flooding, air disasters, train disasters, animal rescues. Anything where our skills of searching and recovery of the deceased or living cannot be carried out by police, fire or ambulance.
Paper maps or GPS? What advice would you give?
Paper maps are the ideal, as they don't break or run out of batteries. GPS devices are good, but only as another tool in your toolbox of navigation aids, and not the sole aid.
Tell us about your team. How many members do you have and what different strengths do they bring to the team?
We have currently 43 operational team members with seven aspirants in training. Like all MR teams we have a variety of skills within our membership.
Sheffield is our main source of recruitment and given its excellent medical pedigree with its hospitals and universities, this does provide the team with a steady flow of applicants as many of its students decide to stay and make their home here. We have a small proportion of outdoor professionals who bring their skills too. Other team members are from all walks of life, e.g. teachers, IT, telecommunications, trades people and management professionals.
We deal a lot in trauma cases and we cover the nine main climbing edges of the Peak District and the team are all highly skilled in casualty care and are equipped with the skills of administering opiate drugs and resetting breaks and dislocations in hostile environments as well as preserving life.
Like other teams we train hard to play easy, so to speak.
How did you get to be involved with the Edale Mountain Rescue Team?
I personally got involved after a lifetime in the hills of Great Britain enjoying most disciplines like caving, climbing, fell running, mountain biking and kayaking. At 54 years old, I realised that I had time to put something back into a lifetime of enjoyment that the outdoors had given to me, not to mention the lifelong camaraderie that comes with outdoor friends. I ran the annual Nine Edges Endurance race in 2009 and found out that I had actually raised the most amount of money that year and was invited to spend a day with a team member who is an outdoor instructor. He encouraged me to join, and in March 2010 I joined the team as an aspirant and qualified a year later.
I've held various posts over the years, and became the team leader in March 2020.
Return to the
News & Features Blog