March 2021 - NNAS
by Nigel Williams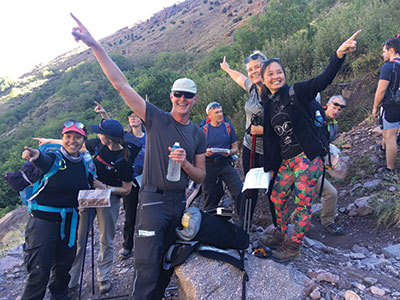 Orienteers are generally the best on foot navigators. They do it without grid numbers on their maps and without a rotating dial or numbers on the compass. They also have a successful teaching methodology and all those involved in teaching it are trained and assessed to coach.
Grid references, quantifying bearings and the importance of magnetic variation come from the military around WW2, when one wrong number could lead to shelling ones own troops. It is more about map reading and static plotting, as opposed to on the move navigation. Numbers are merely a means of communication. Today we use navigation for recreation and most people follow paths, yet much of the teaching reflects an 80 year old approach. This may stem from geography lessons as map reading is required for exams. However, I suspect this gets mistaken for navigation in the minds of many pupils and has a negative effect on their confidence to navigate.
By 1945, Scouts and the 3 armed services cadet forces were being taught map reading. The Duke of Edinburgh's Award started in 1956, Ten Tors in 1959 and Mountain Leadership Awards in 1964. A decade later orienteering is established in the UK, HARVEY Maps are producing ground breaking cartography for orienteering maps and the British Orienteering Federation (now British Orienteering) is developing a successful coaching scheme. I think at the time the view was that orienteering had little to do with the map reading requirements of the established organisations. The maps were different and lacked the numbers which were viewed as essential to teaching. The participants ran, wore odd clothing and belonged to a club; none of which are necessary to take part these days. The established organisations seem to have shown little interest in investigating in the teaching methodology and amazing navigation efficiency and skill of orienteers. We now know that the basic cognitive ingredients required for navigation are the same regardless of the map and terrain so navigation in any context will develop navigation confidence and should not be dismissed.
In 1994 Peter Palmer was a keen orienteer, coach and school teacher running Duke of Edinburgh. He could see how orienteering mapping and teaching methodology could help the pupils gain confidence with hill navigation. He established the National Navigation Award Scheme (NNAS) which has been supported by the Royal Institute of Navigation and other bodies including Mountain Training.
The NNAS is now a Scottish charity. It is the only organisation concerned with recreational navigation that has come after orienteering. Although it sees the orienteering map as a valuable tool in teaching the skills, the aim is to teach broader non-competitive recreational navigation with traditional OS and HARVEY map scales.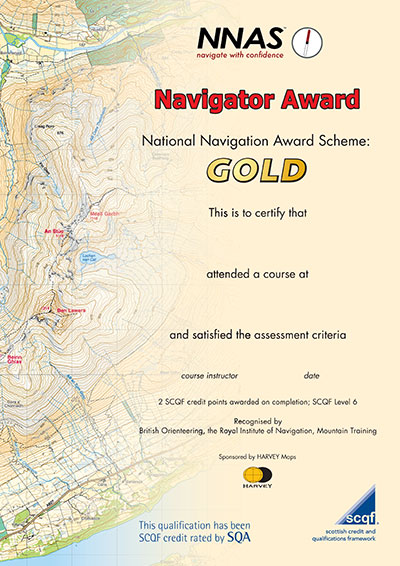 The NNAS has two sets of awards: the Outdoor Discovery Awards 1, 2 and 3 star covering simple progressions for primary school pupils and people just needing a little confidence with a map when walking in their neighbourhood, Health Walk and Paths For All groups for instance.
The Navigator Awards use Bronze, Silver and Gold levels. These are aimed at anyone interested in learning and developing navigation skills in the wider countryside. Participants can start at any level; the content is carefully structured to provide progressions and develop confidence. Each level has a 12 hour practical contact time, usually a weekend. All the Tutors have to attend a one day Tutor Award course to familiarise them with the teaching methodology (orienteering being the only other body to do this). As a result, the Navigator Awards have been approved by the Scottish Qualifications Authority (SQA) and are listed on the Scottish Credits and Qualifications Framework so they can be recognised within education and training settings. Outdoor education that can actually be formally credited. It is not just education groups that use the NNAS; rescue teams, the Army and RAF cadets, some Duke of Edinburgh's Award and Scouting and Girlguiding groups also use the NNAS. It provides a bench mark of navigation skills. In addition, the Tutor course is recognised as a valuable piece of continuing professional development by all the UK professional mountaineering bodies.
It appears that the Navigator Awards align closely with the emerging science as to how humans would have naturally developed navigation skills long before maps. Many of the scientific papers talk about the importance of confidence with navigation which is a focus of the NNAS teaching methodology and is reflected in their recently adopted strapline, 'Navigate with Confidence'.
From the beginning, the NNAS has been fortunate to have been supported by HARVEY Maps with a shared aim of wanting to help people learn to navigate, enjoy maps and outdoor adventures. Sue Harvey has been the Chair of the NNAS Board of directors and HARVEY Maps has published all 3 books that support the NNAS scheme and produces a range of other navigation teaching resources.
Return to the
Navigation Blog
For more information see
www.nnas.org.uk