November 2021 - Loss and Recovery in the Foreboding Scottish Highlands
by Lizzie Buchanan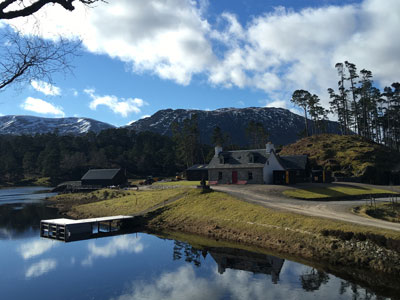 Earlier this month we were contacted by one of our customers about a remarkable story of being reunited with a long-lost map. This is what Lizzie Buchanan had to say about the journey of her HARVEY map.
Back at the end of February 2021 I set out to tackle Mam Sodhail and Carn Eighe with my partner. Ground level was displaying signs of a rather summery progression, after some fantastically hard-set winter weeks. However, having been up on some neighbouring Munros a couple of days before, I was under no illusion regarding the ongoing chill of the hill tops. Needless to say that gloves, crampons and axes remained in the rucksacks.
The warmer climate lent itself to a much easier approach compared to our latest mid-winter outings thanks to the lower paths now excavated by the oncoming spring. Having gained the ridgeline, we mourned the demoted giant (Sgurr Na Lapaich, former Munro) before trudging powdery steps of varying depths westwards. The visibility soon dropped, and a sharp wind smacked us from the south west. It was the kind of day where a pause was only warranted by the need to struggle into waterproof trousers, an extra layer or check progress through a map consultation. Water bottles were frozen, so hydration didn't need to be factored in. We passed a cheery pair backing off Mam Sodhail, having been spooked by the lack of visibility. This was a commendable move as it was their first Munro attempt and they lacked appropriate winter gear, presumably duped earlier by the mild start to their day.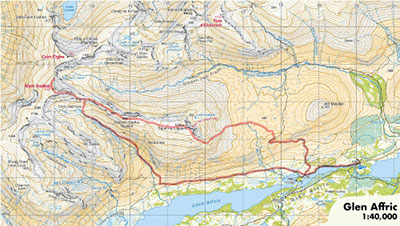 Once at the summit, we attempted to etch out some degree of shelter behind Mam Sodhail's sizeable summit cairn and took a bearing. This required the usual fierce grip and careful manoeuvring you would expect when against such unforgiving winds. I had grown tired of the tunnelling chill from unzipping my outer layer to store the map, and so against my partner's recommendations wriggled it beneath my rucksack chest strap - a schoolboy error of the highest order, given the conditions.
Encompassed within the 'ping-pong ball', we descended the fairly steep northern slopes.
I slipped, swiftly managing to self-arrest myself with the axe, so came to a brisk halt. Doused in adrenaline and pinned into place by my trusty axe, I looked down the slope to see the map skirting away, before being jettisoned up and over a corniced edge. It was unmistakably gone.
This of course completely hijacked our intentions. Our compasses and dwindling phone batteries were not sufficient resources to press onwards into unfamiliar terrain. We resorted to back tracking, making use of our pre-stepped boot prints, and bum-slid into Coire Leachavie as a means of ducking away from the meanest conditions.
Quite rightly, I was subjected to an onslaught of "I told you so", though thankfully not until we were back within four walls.
With it now almost being November, many months have passed since the map's fatal swoop. It was actually the first map that I had bought for myself, having otherwise extensively borrowed, primarily from my Dad's collection. It was the
HARVEY Knoydart, Kintail & Glen Affric British Mountain Map
, which I had bought upon moving to live in Inverie village. Being based in such a location during the restrictions of Covid, left me (quite happily) with little choice but to meander about the rugged bounds again and again and again. Over five months I never did the same route twice. I trudged my first solo Munro with it and was generally incredibly fond of this wee map. I'm not entirely sure why, but I never bought a replacement, instead relapsing into the borrowing method for these areas.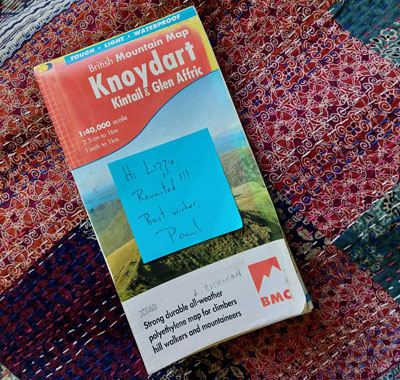 A week ago, I received a text from an unknown number. It was addressed to 'L Buchanan', stating that they had found a map within a battered and broken case by the side of Loch Uaine. Bizarrely, the hiker had happened upon it after diverting their original route to go up to Mam Sodhail, due to unfavourable wind conditions. He kindly sent it up to my new address on Skye, and other than being a little faded, is in fine functioning order.
I can't quite believe how well it endured 8 months of snow, thaw, sun, rain, bog etc, despite the deterioration of its protective case. I really am delighted to have it back, and am already planning a return trip to Knoydart.
British Mountain Maps
HARVEY British Mountain Maps
are produced at 1:40,000 scale and are ideal for climbers, hill walkers and mountaineers who want a detailed map of technical terrain that shows more features for safe, accurate navigation.
"Inspiring map with masses of information for walkers, mountain bikers and mountaineers. And it is virtually indestructible." Nigel Williams, Former Head of Training, Glenmore Lodge"The range of information on the other side of the map is fantastic. From detailed diagrams of crags for climbers, geological mapping and history provided by the British Geological Survey through to tips and advice on staying safe in the mountains, basic navigation techniques and more."
Return to the
News & Features Blog