October 2021 - Mountain Training Awards
by Nigel Williams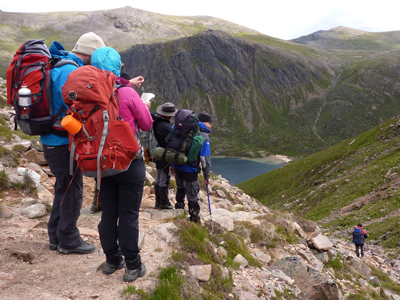 In a
previous blog I wrote about the National Navigation Award Scheme (NNAS)
, a progressive set of three, 2-day navigation training packages for personal competence.
Another avenue for learning or improving navigation skills is through a
Mountain Training UK & Ireland (MTUK&I but usually referred to as MT) course
. MT is the awarding body for a range of nationally recognised outdoor leadership qualifications in walking and climbing. There are two skills courses, Hill Skills and Mountain Skills, 2 days each which cover a wide range of outdoor skills. However, for this blog I will try to summarise the walking qualifications.
The 3 main UK based summer walking qualifications offered are linked to terrain, (not dissimilar to the NNAS awards); Lowland Leader, Hill and Moorland Leader and Mountain Leader. The Mountain Leader scheme started in 1964 and for 30 years was the only qualification available.
Depending on outdoor experience, candidates can now choose their entry point into these schemes. They do not need to be done sequentially.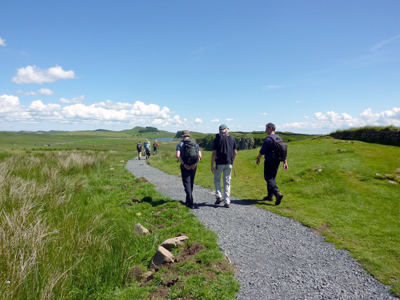 All the qualifications are run in two parts, a training course and at a later date an assessment course. Most people really enjoy the process, which for regular walkers often confirms they have built up a good amount of outdoor knowledge and expertise, and the training course brings it all together. Statistically, many people do not go on to complete assessments and there is no requirement to do so unless you actually want the qualification for work or volunteering. The training courses alone are excellent and provide an immersive experience, and one can always complete the assessment process some years later.
Several thousand people go through the Mountain Leader training course every year across the UK, (many more than that attend the Lowland Leader scheme). After registration for the Mountain Leader scheme the minimum required pre training course experience is 20 good mountain walking days. MT defines these as Quality Mountain Days (QMDs). I'm often asked about this aspect when running navigation courses, and people seem surprised to hear that with around 25 Munros under their belt they have enough experience to attend a Mountain Leader course. Ten forest/rural countryside walks of around 3 hours is enough for the Lowland Leader.
There is a huge age range on these courses from 18 year old aspiring outdoor instructors to midlife folk and retirees seeking new challenges. There is also a reasonably balanced gender split and always a really interesting mix of people from completely different backgrounds and professions, with a range of outdoor experience and reasons for attending.
Navigation skills are the major element of all the awards, but the qualification remit is about looking after others whilst leading walks. The courses also include appropriate elements of leadership, emergency procedures, environmental knowledge, weather and access legislation.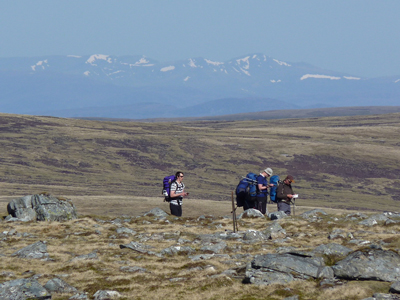 Lowland Leader (LL)
has been designed for people who wish to lead groups on day walks in lowland countryside and woodland in summer conditions. It involves 2 days training followed by 2 days assessment and specifically keeps to well-marked paths on the map and ground. These courses are run in every part of the UK and Ireland.
Hill and Moorland Leader (HML)
is aimed at walkers who want to learn the skills required for effective group leadership in the hills and moorland areas of the UK and Ireland. This award involves 3 days of training and 3 days assessment, on and off paths in open hill and moorland country. These courses are run across many upland areas of the UK and Ireland.
Mountain Leader (ML)
This scheme is designed for people who want to lead groups in the mountains, hills and moorlands of the UK and Ireland. ML is similar to HML in terms of navigation skills but can involve looking after people in more challenging and rugged ground (not scrambling) including water hazards, and managing wild camping groups. It involves 6 days training and 5 days assessment. Courses are limited to the main mountain and remote moorland areas of the UK and Ireland,
HARVEY British Mountain Maps
provide excellent coverage of these areas.
There are a range of other qualifications such as the sports leader Lowland Walk Leader or regional schemes run by the local authorities, such as the South West Mountain and Moorland Schemes operated by SW England local councils. In addition, there is a military scheme and various youth bodies like Girl Guiding and Scouts have schemes. The advantage of the Mountain Training schemes is that they are universally known and respected and transferable across the whole of the UK and Ireland.
For useful books and helpful navigation aids take a look at
HARVEY Maps teaching and navigation
section.
Return to the
Navigation Blog