November 2021 - Trail Running around Pitlochry, Perthshire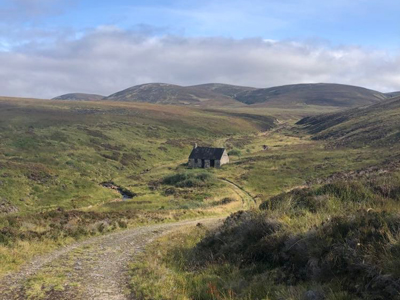 Pitlochry and the wider area of Perthshire has an abundance of beautiful running trails. It even has its own 5km parkrun tucked away in the popular Faskally Wood. We spoke to local trail runners Louise and Selene, Event Directors of the parkrun, as to why Pitlochry is so special for trail running.
Louise
Running trails has been my preference ever since I was introduced to the idea by fellow runners at my Wirral based running club. Like many aspirant runners I had this preconceived idea that it was only for the super fit. To find out that I was wrong was a turning point, and a whole new environment opened up to me. Having always loved poring over maps, planning potential new running adventures and trying to imagine the terrain from the two dimensional one represented on the paper in front of me, was exciting.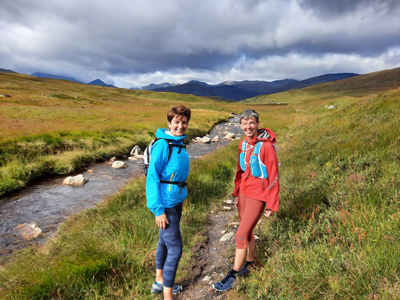 Fast forward ten years and we relocated to Pitlochry, a trail runner and walkers paradise. Acquiring a HARVEY map of my new playground, potential routes started to formulate. Sharing these ideas in theory and practice with my running buddy Selene has taken us along many of the areas paths for better or worse. We have had some amazing days out and feel very lucky to live in such a beautiful area. Equally we have discovered plenty of bogs, fields of cows and nettles.
Selene
I have been running for around 10 years and got into running to prove a point! I signed up for Pitlochry 10k, much to my two teenage daughters' amusement. If I could do it anyone can, and I did! This was where my love of running began. I was very much a pavement plodder until I met Louise when we were training for our marathons. Louise introduced me to the hills….wow, what had I been missing! Pitlochry and the surrounding countryside is so beautiful. I feel very privileged to live in such a beautiful area. We are spoiled for choice really.
So what's so special about Pitlochry and its surrounding area?
It's a diverse area that has so much to offer from an amazing array of trails beginning with gentle woodland and river walks and hidden lochs, to summiting nearby hills. With such a rich mixture of landscapes, there are trails for all abilities. The ones we've chosen can be run or walked and start with those that are shorter, then move on to more challenging adventures.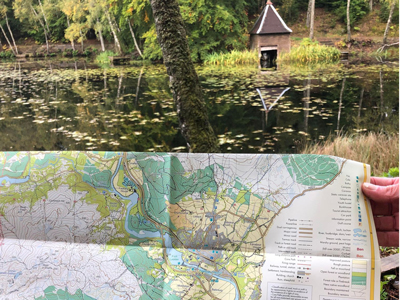 The new HARVEY Pitlochry, Loch Tummel & Blair Atholl Map
The
HARVEY Pitlochry Superwalker map
is light to carry, easy to handle and fits easily in my jacket pocket. Living in Perthshire we run in all weathers, so the fact that it is waterproof is very welcome, and it doesn't start to lose legibility along the fold lines like a paper map.
Allt Scheicheachan Bothy loop
(Approx 14 miles, Elevation gain 1080ft)
One of our favourite runs is a circular route of approx. 14 miles. Parking in the Bridge of Tilt Car Park, take the tarmac road to the crossroads at Old Blair, go straight ahead onto the path that runs beside the Banvie Burn and follow the track on the east side of Allt an t-Seaphail that ascends around 500 metres over spectacular open moorland. Allt Scheicheachan Bothy (Pronounced 'ee igh an') comes into view after a short decent.
The bothy was originally built for the hill ponies to shelter in during the hunting season when bringing deer down off the hills. Cross the burn and continue on the track where you will pass the path that ascends the Munro, Bienn Dearg. The track runs alongside the Allt Slanaidh and drops down into lower Glen Tilt running parallel to the shooting range. There are several paths through the woods, all leading to the Glen Tilt road which brings you back to the Bridge of Tilt carpark.
The terrain is mostly on a good land rover track. Oh, you may get wet feet, there are a couple of stream crossings!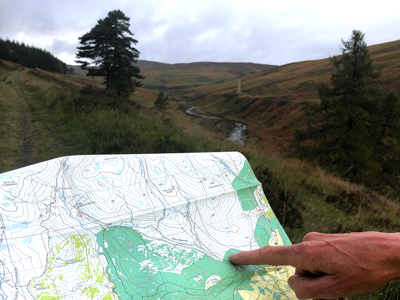 Loch Farleyer circular
(Approx 7.6 miles, Elevation gain 1295ft)
Starting from the hamlet of Camserney to the west of Aberfeldy, we run this as a lollypop shaped route. Starting by the village hall (parking for 2-3 cars here) head uphill on the road for just over a mile. This is the stick of the lolly and you reverse this on your return. We tend to run the loop anticlockwise from here. The track climbs through farmland, across cattle grids to Shenavail farm.
Turn around and admire the view down the Tay valley. Pass through the gate here and enter the pine woods. Be prepared to get wet feet as the trail narrows passing through the woods. Tape markers on tree branches and the occasional signpost keep you heading up hill, then out onto a forestry track. It's not long before a pile of stones on your left indicate where you head back into the trees. Suddenly, after skirting the edge of the plantation, you are passing through a gate out onto heather moorland. Keep an eye out for the deer. There are great views to be had of the surrounding hills and River Tay.
In the distance the green corrugated walls of a bothy can be seen. The narrow path winds over to the bothy. Try and keep your feet dry at the burn crossing just before. From here a Landover track undulates downhill to Loch Farleyer. Perhaps you'll be lucky to see an osprey and the resident swans. Now it's downhill all the way on good tracks back to the start of the loop and the mile back down the lolly stick to your start point.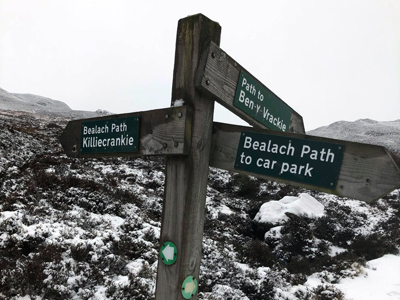 Ben y Vrackie Bealach
(10 miles, Elevation gain 1800ft)
Ben y Vrackie Bealach, also called Ben Vrackie, is our local Corbett mountain overlooking Pitlochry. There are numerous path options in its vicinity. Our routes generally starts from Moulin. The footpath is clearly signposted from the car park up road and through the woods to a deer fence gate that passes out onto the open hill.
A bit further on a signpost gives the option of bearing left over the Bealach na Searmoin, which stands for pass of the sermon, our preferred option. Alternatively you can bear right up to Loch a'Choire, at the base of the steps that lead up to the Corbett summit. A quick descent from the Bealach on good paths, boggy in parts, takes you to the road by the Killiecrankie visitor centre, with a good cafe. To return to Pitlochry take the footpath down to the Soldiers Leap and back along the river Garry, keeping the river on your right until you arrive at Loch Faskally.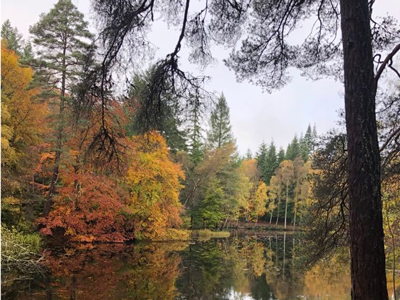 Faskally Wood Walks
There are a network of paths in and around Faskally woods, which we became very familiar with looking for the parkrun route. These vary in distance from 1 mile around Loch Dunmore or around 3.5 miles return from the town. You can choose to walk there from Pitlochry Dam and Visitors Centre along the river path. Alternatively there is a good path around Loch Dunmore which is accessible for all. If you fancy a challenge, why not run or walk our 5K Faskally Forest parkrun route.
Rumour has it our parkrun is the third toughest in Scotland
Parkrun - Faskally Forest
If you want to explore more trail routes in Perthshire, HARVEY has maps available in the following series:
Superwalker - 1:25,000
Ben Lawers and Schiehallion
Crieff & Comrie, Doune & Dunblane
Ultramap - 1:40,000
Ben Lawers and Schiehallion
British Mountain Map - 1:40,000
Schiehallion, Ben Lawers & Glen Lyon
Return to the
News & Features Blog