October 2021 - The Pennine Bridleway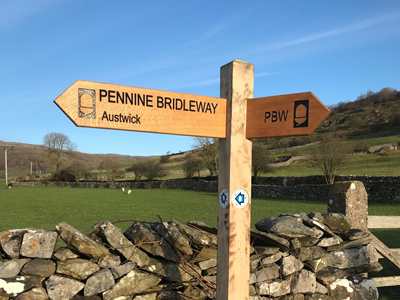 Jo McAllister and Heather Procter of the Pennine National Trail Partnership provide us with an introduction to the
Pennine Bridleway - new map available now
.
If you're looking for a Trail with variety and versatility, then the Pennine Bridleway National Trail could be just what you're after. Stretching from Derbyshire to Cumbria, the Pennine Bridleway is the only National Trail specifically designed to be used by horse riders, and it's also fantastic for mountain bikers and walkers. The Pennine Bridleway offers miles of stile-free Trail along its length, and some other sections of the Trail are suitable for all-terrain wheelchairs too.
The start of the Pennine Bridleway for cyclists and walkers is at Middleton Top where the route follows The High Peak Trail; for horse riders the start is at Hartington and the Trail follows the Tissington Trail. Both of the High Peak and Tissington Trails use the routes of old railway lines and the paths are smooth, wide and surfaced, so great for family friendly cycling and horseriding. There is the added benefit of cycle hire at Middleton Top and Parsley Hay (further north on the trail) and a café at both locations.
Click here for more information on the circular walk/ride here in this area.
Further north, a highlight is Roych Clough, and then round the back of South Head and Mt Famine which can be accessed by all, including some off-road wheelchairs/trampers. There are incredible views with steep ups and downs and great views of Kinder.
In addition to being a linear route, the Pennine Bridleway also boasts two 'loops', the Mary Townley Loop and the Settle Loop, and routes in and around Wycoller.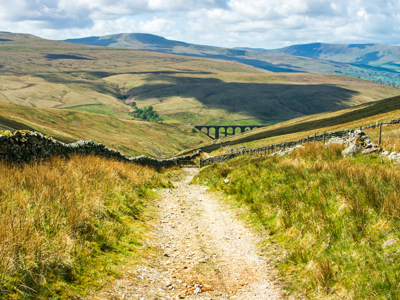 The Mary Towneley Loop
Hurstwood Reservoir, Cant Clough Reservoir and Shedden Clough. This is a really interesting landscape caused by quarrying using 'hushings'. There is a circular walk around Hurstwood Reservoir, which can be extended using various footpaths. Car parking is available at Hurstwood or at the Maiden's Cross car park on The Long Causeway.
Wycoller, Lancashire
Wycoller village and Boulsworth Hill. Parking at Wycoller Country Park, walk past the historic village and ruins of the old Hall, alongside the river which is crossed by multiple precarious stone bridges, and up onto Boulsworth Hill which affords great views of the Lancashire countryside. Various routes can be taken back to Wycoller.
The Settle Loop
This is a 10 mile loop and is suitable for horse riders, cyclists and walkers. Most is also accessible for all-terrain wheelchairs. The Loop crosses limestone landscapes and offers great views of Malham Tarn. Plenty of parking in Settle.
Click for more information on the Settle Loop.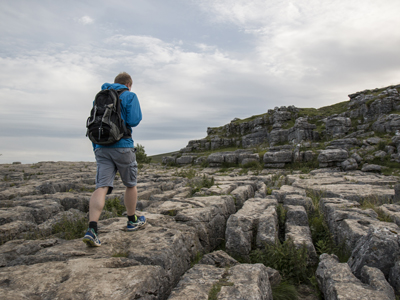 Clapham/Austwick/Feizor
The routes in the following links are a favourite of mine - I like the longer option to Austwick and Feizor best.
Route 1 - this shows the route
without the section to Austwick/Feizor
Route 2 - this is the
longer route aimed more at mountain bikers
.
There's a great café (Elaine's Tea Room) in Feizor which is a good stopping-off point.
This area provides many of good year-round options for horse riders and cyclists, with great views and some soft grassy stretches for horse riders to canter. There's a good size car park at Clapham with toilets and nearby cafes.
Jo McAllister and Heather Proctor
Pennine National Trails Partnership
Image 1 reproduced with permission from the Pennine National Trails Partnership
Return to the
News & Features Blog